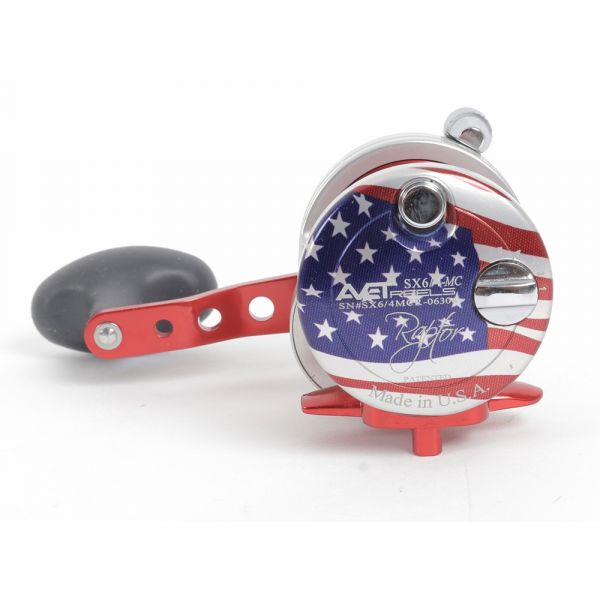 Avet SX 6/4 MC Raptor 2-Speed Lever Drag Casting Reels
Model


TD Code
Retrieve
Line Class
Mono Capacity
(lb/yds)
Braid Capacity
(lb/yds)
Max Drag
(lbs)
Gear
Ratio
Inches Per Crank
Weight
(oz)
Color
Price
SX 6/4 MC RAPTOR Gold


AVE-0146-1

Right-Hand
20-50 lb.
25/275
30/200


40-50 topshot only

50/630
65/420
80/330
Strike: 17
Full: 26
H: 6.3:1
L: 3.8:1
H: 39 in.
L: 24 in.
17 oz.
Gold

$395.99

USD
SX 6/4 MC RAPTOR Silver


AVE-0146-2

Right-Hand
20-50 lb.
25/275
30/200


40-50 topshot only

50/630
65/420
80/330
Strike: 17
Full: 26
H: 6.3:1
L: 3.8:1
H: 39 in.
L: 24 in.
17 oz.
Silver

$395.99

USD
SX 6/4 MC RAPTOR Blue


AVE-0146-3

Right-Hand
20-50 lb.
25/275
30/200


40-50 topshot only

50/630
65/420
80/330
Strike: 17
Full: 26
H: 6.3:1
L: 3.8:1
H: 39 in.
L: 24 in.
17 oz.
Blue

$395.99

USD
SX 6/4 MC RAPTOR Pink


AVE-0146-5

Right-Hand
20-50 lb.
25/275
30/200


40-50 topshot only

50/630
65/420
80/330
Strike: 17
Full: 26
H: 6.3:1
L: 3.8:1
H: 39 in.
L: 24 in.
17 oz.
Pink

$395.99

USD
SX 6/4 MC RAPTOR Black


AVE-0147

Right-Hand
20-50 lb.
25/275
30/200


40-50 topshot only

50/630
65/420
80/330
Strike: 17
Full: 26
H: 6.3:1
L: 3.8:1
H: 39 in.
L: 24 in.
17 oz.
Black

$395.99

USD
SX 6/4 MC RAPTOR Gunmetal Grey


AVE-0148

Right-Hand
20-50 lb.
25/275
30/200


40-50 topshot only

50/630
65/420
80/330
Strike: 17
Full: 26
H: 6.3:1
L: 3.8:1
H: 39 in.
L: 24 in.
17 oz.
Gunmetal
Grey

$395.99

USD
SX 6/4 MC RAPTOR Purple


AVE-0149

Right-Hand
20-50 lb.
25/275
30/200


40-50 topshot only

50/630
65/420
80/330
Strike: 17
Full: 26
H: 6.3:1
L: 3.8:1
H: 39 in.
L: 24 in.
17 oz.
Purple

$395.99

USD
SX 6/4 MC RAPTOR Green Camo


AVE-0177

Right-Hand
20-50 lb.
25/275
30/200


40-50 topshot only

50/630
65/420
80/330
Strike: 17
Full: 26
H: 6.3:1
L: 3.8:1
H: 39 in.
L: 24 in.
17 oz.
Green
Camo

$470.99

USD
SX 6/4 MC RAPTOR Green


AVE-0308

Right-Hand
20-50 lb.
25/275
30/200


40-50 topshot only

50/630
65/420
80/330
Strike: 17
Full: 26
H: 6.3:1
L: 3.8:1
H: 39 in.
L: 24 in.
17 oz.
Green

$395.99

USD
SX 6/4 MC RAPTOR Orange


AVE-0146-4

Right-Hand
15-30 lb.
15/430
20/300
25/270
30/970
40/800
50/580
Strike: 9
Full: 14
5.8:1
38 in.
17 oz.
Orange

$395.99

USD
SX 6/4 MC Raptor Dorado


AVE-0471

Right-Hand
10-25 lb.
20/270
65/300 + Topshot
Strike: 17
Full: 26
H: 6.3:1
L: 3.8:1
H: 39 in.
L: 24 in.
17 oz.
Dorado

$528.99

USD
SX 6/4 MC RAPTOR RH-FR


AVE-0695

Right-Hand
20-50 lb.
20/270
65/300 + Topshot
Strike: 17
Full: 26
H: 6.3:1
L: 3.8:1
H: 39 in.
L: 24 in.
17 oz.
First Responders Blue Line

$470.99

USD
Avet SX Reel Features:
Precision machined 6061 T-6 marine grade aluminum and stainless steel components.
Anodized for superior corrosion resistance and beautiful finish.
True one piece frame for the ultimate in strength vs. weight.
Powerful lever drag system with adjustable strike pre-set.
Precision machined stainless steel gears.
Avet's patented, indestructible, silent dog and gear anti-reverse system, the most reliable in the industry.
Reliable Avedrag dry carbon fiber drags for superior stopping power, smoothness and wear resistance.
8 sealed stainless ball bearings.
Alarm clicker.
Offset machined handle arm to reduce centerline profile and cranking wobble.
Large comfortable soft touch handle knob.
Specially designed rod mounting foot to fit most graphite trigger seats as well as standard rod seats.
Matching machined aluminum rod clamp. (Excluding Non-Raptor SXJ Models)
Designed, machined and assembled in USA.
SX, SXJ Reel diameter: 2-3/8 in.
SXJ spool width: 1-1/8 in.
SX spool width: 1-1/2 in.
SX crank handle length (except Raptor models): 2-3/4 in. w/ oval knob
SX Raptor crank handle length: 3 in. w/ oval knob
MC Models - Magic Cast Control System.

Prevention of backlash and as a line out adjustment for live bait fishing.
1 through 5 Cast Control knob setting for multiple weight casting applications.
MC Cast is a standard feature on Raptor models (HXW Raptor excluded)
5
Stars based on
116
reviews
By Matthew
Stapleton, Alabama
Tiny Powerhouse
December 2, 2017
SXJ Raptor
I spooled it with 40lb JB solid core braid FG knot to 10ft of 60lb flouro. I like this reel because of how tiny it is. I prefer the narrow frame version of the reels because the line lays easier. It puts out 25lbs of drag which is unreal for it's size, it only weighs 16ozs. The only thing it lacks is line capacity. I think i got a little over 200yds of 40 on it. I caught a nice size cobia with it and he pulled a good bit of line off the reel. I never thought I was going to get spooled or anything like that but I could tell there was a decent bit of line missing off the reel (about 1/3). I did make a pretty long cast to the cobia to start. Towards the end of the season we started catching snapper that were averaging 10-12lbs and we caught quite a few that were 15-20lbs. I had this reel set to 22lb at full drag. It did perform very well with the bigger fish but they tended to pull a little more line off this reel than the other reels that had higher drags. I had one very big fish get me down in some structure and I lost him. After that I really never used this reel at my big fish spots and I used the bigger reels with more drag. I used this reel to fish higher in the water column and it worked excellent for that, it also worked great for butterfly jigging. Don't get me wrong, it's a great snapper reel even for the biggest of snapper... but why use it when I can use reels I have set to 30-35lbs of drag at max? I really enjoyed using it to catch beeliners and it worked great on triggers too. If I were to do this one over I might would opt for an SX or maybe an MXJ to get a little more line capacity, it somewhat limits what you can do with this reel. Then again maybe not, I really like the narrow spool. I purchased this reel for an ultra-light, compact, 2 speed bottom fishing reel for snapper. It does that just fine but it is really not ideal for lighter drag applications such as fishing for king mackerel. I guess I'm trying to compare it to the versatility of the JX a little too much. All in all it's a pretty awesome little reel.
Pros
light weight
made in america
2-speed
stainless gears
shielded bearings
affordable compared to talicas and accurates
Cons
limited due to line capacity
Compact
November 26, 2021
Nice small compact reel with the great stopping power!
Super reel
November 14, 2021
Great reel for 75 feet and deeper fishing heavier jigs in the salt. Super reliable and great looking. Drag system is the best. The handle is big and I like that. It's not a bass bait caster, it's for salt water.
Cons
Expensive, but you get what you pay for.
Avet SXJ Raptor
October 15, 2021
Awesome reel, great quality paired nicely with Shimano TVC70ML. Very smooth gearing. Should last many years
ABSOLUTE UNIT OF A REEL
September 30, 2021
In the short few months I've owned this reel, I've caught several bull reds in this years red drum run. I have mine spooled with 50lb suffix braid and I can cast a mile with the help of the MC Cast. It has plenty of stopping power to put the brakes on 40" reds. Have also caught a few sandbar sharks up to 3ft. Never been worried I was under powered or felt like I was gonna be spooled. The raptor model is definitely worth the extra money.
Pros
Tons of drag
Easy to use
Lower gear ratio helps wench in big fish
Durable
Cons
Only con is I wish I had two
Amazing
September 19, 2021
Super light and smooth. Can use it all day. I use it for slow pitch jigging
Went bluefin fishing down in San Diego for 3 days, what a nice reel it worked like a champ reeling the fish. I will be buying 2 more for bigger fish.
Solid reel with plenty of power for its size
March 22, 2021
Great compact reel with two speeds and magic cast. Will be used for offshore bass and school sized tuna.
very smooth
March 6, 2021
easy to cast but the magnetic cast control makes it even smoother and easier to control, very durable and no flexing or unnecessary moving parts.
Pros
smooth when casting and reeling, easy to maintenance
Cons
not easy to find what (colors, raptor) you want in the left hand models and cost a bit more for them
By updateCategoryParentRick
Punta Gorda Florida
Perfect grouper reel
December 28, 2020
Was looking for a lighter reel that still had the guts to handle a 30"
grouper. The Raptor 2 speed fit the Bill perfectly. Light, solid and love the 2 speed. Wife can leave the rod in the gunnel holder, flip into low speed and easily lift grouper off the bottom! Nuff said!
Pros
Solid drag rail that clicks to position
Cons
Drag has been a bit grabby durning break 9n period, but after several outings, it is smoothing out ? wish Avet would improve the the drag smoothness out of the box.
By Anonymous
Jeffersonville, IN
One Beautiful Reel
December 28, 2020
Did a search for ocean reels and found theses. Never heard of them. Bought one and I can't believe I've never heard of them. One of the finest reels I've ever seen and used. Wont buy any other reel from now on.

Hard to beat!
December 10, 2020
This reel puts out a tremendous amount of drag for the size. Raptor drag has a much more gradual drag curve than my non-raptor avets. Super smooth. Fit and finish are excellent. Came well greased. It is a little noisier than the MXJ Raptor but still very quiet.
Pros
-Tons of Drag with a good drag curve
-Small & light
-Very smooth
Cons
-Anti-Reverse could allow for less reverse movement. I caveat that this AR seems completely bomber and indestructible.
This reel is a tank!
December 5, 2020
Throw anything at this reel. Getting your iron out there, and landing stripers and blues from the surf is what this reel is all about. Paired it with an 8-ft Shimano Teramar and it's perfect. After getting the hang of casting with it and getting muscle memory dialed in, it's a lot of fun. Lightweight setup with cast control and a good amount of line, just drive up to the water or jetty and fish for hours.
Easy to service too. 5 screws and you have access to everything you need to clean and lube.
This was the start of my Avet obsession!
Pros
Easy to service.
Drag for anything you could ever land from the surf.
Line capacity.
Unbelievable performance for a reel this size.
Cons
You?ll gonna want another, and another...
Is the raptor worth it?
November 21, 2020
I bought the reel as a multi purpose cobia reel in the spring and surf casting reel in the summer. I had a hard time deciding if the raptor was worth the money and after having it a few months ill give my opinion. For my purposes the extra drag really helps. How ever the MC seems to have little to no effect and its pretty easy to cause a rats nest if not careful, even with years of experience on similar reels and a some practice time on this on.
If you need the extra drag my opinion is to get the raptor.
If you are considering it for the MC, ive casted the same reel model without the MC and there is little to no difference which really disappointed me.
Nathan
from Vancouver Canada asked:
August 1, 2021
What is the spool widths on the SX and SXJ raptors
1 Answer
Nathan,
Avet lists the following for spool widths:
SXJ spool width: 1-1/8 in.
SX spool width: 1-1/2 in.
Submitted by:
Rick - TackleDirect Customer Service
on August 3, 2021
Show off your fishing gear investment. Please post images and videos of your fishing gear, apparel, catches and lifestyle shots on and off the water. Let's see what you've got for a chance to win FREE gear! You can use #HookedOnTD or UPLOAD YOUR IMAGE HERE to make it onto our product pages or gallery. See something you like? You can shop directly from the images we post when gear we sell is featured!