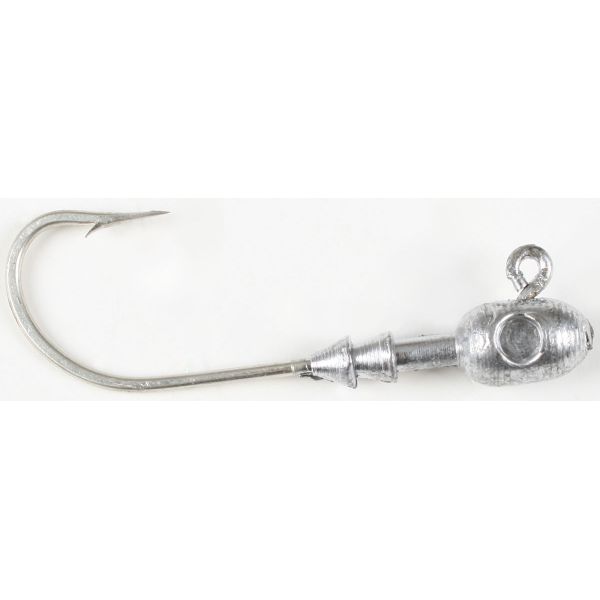 Model


TD Code
Description
Size
Hook
Color
Quantity
Price
SPJRED1


JOE-0008-7

SPJ's Jig Head
1 oz.
Mustad 8/0
Red
2 Pack

$6.29

USD
SPJRED2


JOE-0010-7

SPJ's Jig Head
2 oz.
Mustad 8/0
Red
2 Pack

$6.29

USD
SPJYLW1


JOE-0008-5

SPJ's Jig Head
1 oz.
Mustad 8/0
Yellow
2 Pack

$6.29

USD
SPJYLW2


JOE-0010-5

SPJ's Jig Head
2 oz.
Mustad 8/0
Yellow
2 Pack

$6.29

USD
SPJBARE1/2


JOE-0001-1

SPJ's Jig Head
1/2 oz.
Mustad 7/0
Bare
2 Pack

$5.79

USD
SPJBARE3/4


JOE-0001-2

SPJ's Jig Head
3/4 oz.
Mustad 7/0
Bare
2 Pack

$5.79

USD
SPJBARE1


JOE-0001-3

SPJ's Jig Head
1 oz.
Mustad 8/0
Bare
2 Pack

$5.49

USD
SPJBARE11/2


JOE-0001-4

SPJ's Jig Head
1.5 oz.
Mustad 8/0
Bare
2 Pack

$5.49

USD
SPJBARE2


JOE-0001-5

SPJ's Jig Head
2 oz.
Mustad 8/0
Bare
2 Pack

$5.99

USD
SPJBARE2.5


JOE-0002

SPJ's Jig Head
2.5 oz.
Mustad 8/0
Bare
2 Pack

$6.79

USD
SPJBARE3


JOE-0003

SPJ's Jig Head
3 oz.
Mustad 8/0
Bare
2 Pack

$6.99

USD
SPJBARE4


JOE-0004

SPJ's Jig Head
4 oz.
Mustad 8/0
Bare
2 Pack

$6.99

USD
SPJBARE5


JOE-0005

SPJ's Jig Head
5 oz.
Mustad 8/0
Bare
2 Pack

$6.99

USD
SPJBLK1/2


JOE-0006-2

SPJ's Jig Head
1/2 oz.
Mustad 7/0
Black
2 Pack

$6.29

USD
SPJBLK3/4


JOE-0007-2

SPJ's Jig Head
3/4 oz.
Mustad 7/0
Black
2 Pack

$6.29

USD
SPJBLK1


JOE-0008-2

SPJ's Jig Head
1 oz.
Mustad 8/0
Black
2 Pack

$6.29

USD
SPJBLK1.5


JOE-0009-2

SPJ's Jig Head
1.5 oz.
Mustad 8/0
Black
2 Pack

$6.29

USD
SPJBLK2


JOE-0010-2

SPJ's Jig Head
2 oz.
Mustad 8/0
Black
2 Pack

$6.29

USD
SPJBLK2.5


JOE-0011-2

SPJ's Jig Head
2.5 oz.
Mustad 8/0
Black
2 Pack

$6.99

USD
SJPBLK3


JOE-0012-2

SPJ's Jig Head
3 oz.
Mustad 8/0
Black
2 Pack

$7.49

USD
SPJBLK4


JOE-0013-2

SPJ's Jig Head
4 oz.
Mustad 8/0
Black
2 Pack

$7.49

USD
SPJBLK5


JOE-0014-2

SPJ's Jig Head
5 oz.
Mustad 8/0
Black
2 Pack

$7.49

USD
SPJCHART1/2


JOE-0006-4

SPJ's Jig Head
1/2 oz.
Mustad 7/0
Chartreuse
2 Pack

$6.29

USD
SPJCHART3/4


JOE-0007-4

SPJ's Jig Head
3/4 oz.
Mustad 7/0
Chartreuse
2 Pack

$6.29

USD
SPJCHART1


JOE-0008-4

SPJ's Jig Head
1 oz.
Mustad 8/0
Chartreuse
2 Pack

$6.29

USD
SPJCHART1.5


JOE-0009-4

SPJ's Jig Head
1.5 oz.
Mustad 8/0
Chartreuse
2 Pack

$6.29

USD
SPJCHART2


JOE-0010-4

SPJ's Jig Head
2 oz.
Mustad 8/0
Chartreuse
2 Pack

$6.29

USD
SPJCHART2.5


JOE-0011-4

SPJ's Jig Head
2.5 oz.
Mustad 8/0
Chartreuse
2 Pack

$6.99

USD
SPJCHART3


JOE-0012-4

SPJ's Jig Head
3 oz.
Mustad 8/0
Chartreuse
2 Pack

$7.49

USD
SPJCHART4


JOE-0013-4

SPJ's Jig Head
4 oz.
Mustad 8/0
Chartreuse
2 Pack

$7.49

USD
SPJCHART5


JOE-0014-4

SPJ's Jig Head
5 oz.
Mustad 8/0
Chartreuse
2 Pack

$7.49

USD
SPJGLOW1/2


JOE-0006-3

SPJ's Jig Head
1/2 oz.
Mustad 7/0
Glow
2 Pack

$6.29

USD
SPJGLOW3/4


JOE-0007-3

SPJ's Jig Head
3/4 oz.
Mustad 7/0
Glow
2 Pack

$6.29

USD
SPJGLOW1


JOE-0008-3

SPJ's Jig Head
1 oz.
Mustad 8/0
Glow
2 Pack

$6.29

USD
SPJGLOW1.5


JOE-0009-3

SPJ's Jig Head
1.5 oz.
Mustad 8/0
Glow
2 Pack

$6.29

USD
SPJGLOW2


JOE-0010-3

SPJ's Jig Head
2 oz.
Mustad 8/0
Glow
2 Pack

$6.29

USD
SPJGLOW2.5


JOE-0011-3

SPJ's Jig Head
2.5 oz.
Mustad 8/0
Glow
2 Pack

$6.99

USD
SPJGLOW3


JOE-0012-3

SPJ's Jig Head
3 oz.
Mustad 8/0
Glow
2 Pack

$7.49

USD
SPJGLOW4


JOE-0013-3

SPJ's Jig Head
4 oz.
Mustad 8/0
Glow
2 Pack

$7.49

USD
SPJGLOW5


JOE-0014-3

SPJ's Jig Head
5 oz.
Mustad 8/0
Glow
2 Pack

$7.49

USD
PINKSPJ1/2


JOE-0006-6

SPJ's Jig Head
1/2 oz.
Mustad 7/0
Pink
2 Pack

$6.29

USD
PINKSPJ3/4


JOE-0007-6

SPJ's Jig Head
3/4 oz.
Mustad 7/0
Pink
2 Pack

$6.29

USD
PINKSPJ1


JOE-0008-6

SPJ's Jig Head
1 oz.
Mustad 8/0
Pink
2 Pack

$6.29

USD
PINKSPJ1.5


JOE-0009-6

SPJ's Jig Head
1.5 oz.
Mustad 8/0
Pink
2 Pack

$6.29

USD
PINKSPJ2


JOE-0010-6

SPJ's Jig Head
2 oz.
Mustad 8/0
Pink
2 Pack

$6.29

USD
PINKSPJ2.5


JOE-0011-6

SPJ's Jig Head
2.5 oz.
Mustad 8/0
Pink
2 Pack

$6.99

USD
PINKSPJ3


JOE-0012-6

SPJ's Jig Head
3 oz.
Mustad 8/0
Pink
2 Pack

$7.49

USD
PINKSPJ4


JOE-0013-6

SPJ's Jig Head
4 oz.
Mustad 8/0
Pink
2 Pack

$7.49

USD
PINKSPJ5


JOE-0014-6

SPJ's Jig Head
5 oz.
Mustad 8/0
Pink
2 Pack

$7.49

USD
SPJWHITE1/2


JOE-0006-1

SPJ's Jig Head
1/2 oz.
Mustad 7/0
White
2 Pack

$6.29

USD
SPJWHITE3/4


JOE-0007-1

SPJ's Jig Head
3/4 oz.
Mustad 7/0
White
2 Pack

$6.29

USD
SPJWHITE1


JOE-0008-1

SPJ's Jig Head
1 oz.
Mustad 8/0
White
2 Pack

$6.29

USD
SPJWHITE11/2


JOE-0009-1

SPJ's Jig Head
1.5 oz.
Mustad 8/0
White
2 Pack

$6.29

USD
SPJWHITE2


JOE-0010-1

SPJ's Jig Head
2 oz.
Mustad 8/0
White
2 Pack

$6.29

USD
SPJWHITE2.5


JOE-0011-1

SPJ's Jig Head
2.5 oz.
Mustad 8/0
White
2 Pack

$6.99

USD
SPJWHITE3


JOE-0012-1

SPJ's Jig Head
3 oz.
Mustad 8/0
White
2 Pack

$7.49

USD
SPJWHITE4


JOE-0013-1

SPJ's Jig Head
4 oz.
Mustad 8/0
White
2 Pack

$7.49

USD
SPJWHITE5


JOE-0014-1

SPJ's Jig Head
5 oz.
Mustad 8/0
White
2 Pack

$7.49

USD
The Joebaggs SPJ's Jig Head is known to be one of the best designed jig head on the market. With its double collar engineering, plastics fit tightly over the collar creating a suction tight fit. SPJ's all have over sized hooks to target our favorite game species like stripers, redfish, tarpon, snook, cobia ETC.
Sizes: 1/2, 3/4, 1, 1.5, 2, 2.5, 3, 4, and 5 oz.
Hooks: Mustad 7/0 in 1/2 and 3/4 oz., Mustad 8/0's in 1 oz. and larger.
5
Stars based on
6
reviews
Top qualtiy.
April 2, 2021
High End version of the bullet heads.
Pros
Sharp, strong, solid finish, they catch fish!
By updateCategoryParent
Weymouth MA
Great quality
December 18, 2020
I like these ..the only thing is you need matching tails for good presentation
Great product
August 1, 2018
As described
Strong jig head
June 6, 2018
This jig head is strong enough to keep any size fish hook.
Joe diesel
April 12, 2018
absolutely deezle 7/0 8/0 hook on a 1/2 oz n up what ive been looking for
Cons
eyes a little fat but get them inside a 75lb TA clip with little fussing
Joe diesel
April 12, 2018
absolutely deezle 8/0 hook on a 1/2 oz what ive been looking for
Cons
eye is on the fat side, hole plenty big though
Jeff
from Long Island, NY asked:
December 29, 2020
How many jigsheads in the package per order?
1 Answer
Hello, thanks for being interested in our products. there are two jigheads per pack ordered.
Submitted by:
Bass O
on December 29, 2020
Show off your fishing gear investment. Please post images and videos of your fishing gear, apparel, catches and lifestyle shots on and off the water. Let's see what you've got for a chance to win FREE gear! You can use #HookedOnTD or UPLOAD YOUR IMAGE HERE to make it onto our product pages or gallery. See something you like? You can shop directly from the images we post when gear we sell is featured!