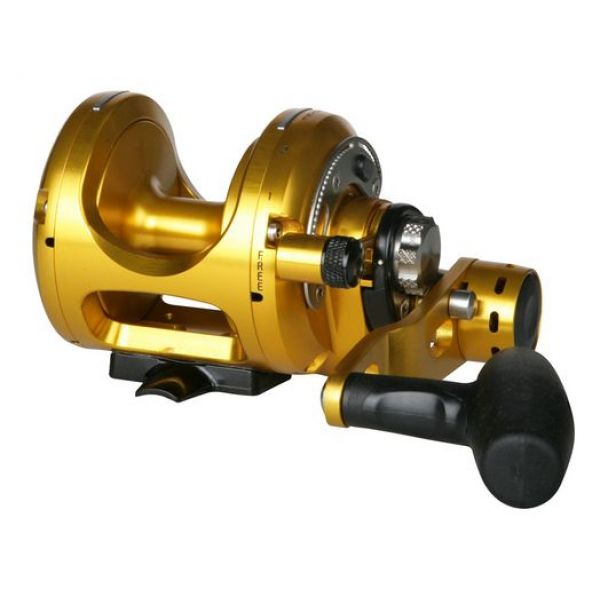 Okuma Makaira 2-Speed Lever Drag Reels
An advanced lever drag saltwater reel specifically designed for sharks, black marlins, bluefin tuna and other popular big game of the ocean.
Our Best Offers
Free Economy Shipping on Orders over $50 with NO CODE NECESSARY! (Some Exclusions Apply)
Current Active Promotions
Model


TD Code
Line Capacity
(yds/lb)
Line Retrieve
Gear Ratio
Bearings
Max Drag - Full
Max Drag - Strike
Weight
Price
MK-8II


OKM-0183

320/15
260/20
195/25
High - 33.5''
Low - 15''
High - 4.7:1
Low - 2.1:1
4BB+1TB
34 lb.
27 lb.
24.2 oz

$459.99

USD
MK10II


OKM-0136

460/15
380/20
280/25
High - 33.5''
Low - 15''
High - 4.7:1
Low - 2.1:1
4BB+1TB
34 lb.
27 lb.
26.1 oz

$494.99

USD
MK15II


OKM-0137

550/20
410/25
310/30
High - 33.5''
Low - 15''
High - 4.7:1
Low - 2.1:1
4BB+1TB
34 lb.
27 lb.
26.8 oz

$479.99

USD
MK16II


OKM-0366

870/20
650/25
500/30
High - 39.2''
Low - 11.8''
High - 4.3:1
Low - 1.3:1
4BB+1TB
48 lb.
34 lb.
40 oz

$559.99

USD
MK20II


OKM-0138

870/25
660/30
530/40
High - 39.4''
Low - 17.5''
High - 3.8:1
Low - 1.7:1
4BB+1TB
55 lb.
37 lb.
45.8 oz

$559.99

USD
MK30II


OKM-0139

850/30
700/40
550/50
High - 39.4''
Low - 17.5''
High - 3.8:1
Low - 1.7:1
4BB+1TB
55 lb.
37 lb.
50 oz

$569.99

USD
MK50II


OKM-0140

1000/30
650/50
400/80
High - 37.8''
Low - 15.3''
High - 3.2:1
Low - 1.3:1
4BB+1TB
85 lb.
60 lb.
61.4 oz

$624.99

USD
MK50WII


OKM-0141

900/50
780/60
560/80
High - 37.8''
Low - 15.3''
High - 3.2:1
Low - 1.3:1
4BB+1TB
85 lb.
60 lb.
65 oz

$644.99

USD
MK80WII


OKM-0142

1000/80
850/100
660/130
High - 45.7''
Low - 20.5''
High - 3.1:1
Low - 1.4:1
6BB+1TB
100 lb.
70 lb.
116 oz

$934.99

USD
MK130II


OKM-0641

1570/80
1270/100
1000/130
High - 39.7'
Low - 27.7''
High - 2.2:1
Low - 1.2:1
6BB+1TB
100 lb.
75 lb.
167 oz

$1,244.99

USD
When your only goal is to land a giant fish, you need a reel that doesn't compromise. The Okuma Makaira is an advanced lever drag saltwater reel specifically designed for sharks, black marlins, bluefin tuna and other popular big game of the ocean. Makaira reels all feature two-speed gearing systems with one providing power and the other designed for speed, giving it the versatility you need. The proprietary hybrid corrosion-resistant stainless steel gearing has. helical cut gears for extreme smoothness and gear meshing. Meanwhile, the carbonite Dual Force drag system features Cal's universal drag grease for the ultimate smooth casts and retrieves. A gold anodized two-speed gear shifter housing protects against corrosion.

Whatever your target is, there's an Okuma Makaira 2-speed conventional reel made for it. TackleDirect offers 10 models of this tough reel. The MK-8II is designed for 15- to 25-lb. line while the MK130II can hold 1,000 yards of 130-lb. line for deep sea trolling. Each Makaira reel has a 6061-T6 machined aluminum frame with forged side plates and a type-II anodized machined aluminum spool. Other features include a corrosion-resistant coating process, a patented spool pin system for braided or mono lines and a thrust bearing that alleviates side loads. Order yours from a family-owned business that guarantees your satisfaction.
Double dog, proprietary silent anti-reverse system
Ratcheting drag lever and drag cam for precise drag setting
Patented T-Bar handle with Easy Roll graphite insert on all models
Heavy duty stainless steel ratcheting clicker system
Heavy duty, precision stainless steel drive and spool shafts
Type-II gold anodized frame, side plates, spool, drag lever and handle
Open top frame design on MK-5II, 10II, 15II, 20II, 50II
Lug and plug system on all open top reel models
Machined thumb rest on rear cross bar for improved ergonomics
Forged aluminum full hard anodized reel foot and reel clamp
Machined etched Marlin logo on left side plate
Precision placement of drain holes maximizes water removal from reel
Special screw ports around side plate screws reduces water/corrosion buildup
Makaira lever drag reels are backed by a 5-year warranty
5
Stars based on
19
reviews
A good reel at a good price
August 6, 2012
A very good reel, at a reasonable price. Satisfactory capacity (MK-50II), very good handle, can be used with braid or mono lines, I truly recommend it.
Pros
Positive feeling during the fight
Durable drag system
loud clicker
Durable metal construction
Cons
It could be a litle bit lighter
Makaira 20II
September 2, 2021
I bought this reel as my second setup for tuna fishing. My first setup uses an Avet EX 30/2. So I am able to do a direct comparison. Both reels are very solid and well built. Even though the Avet is a size 30 and the Makaira is a size 20, they are roughly the same size. The Makaira actually holds more line but comes in about an ounce lighter. The major difference IMO is that the Makaira is a more refined and smoother reel than the Avet. You really can't go wrong with either one, but I do believe the Makaira is worth the extra $100.00 due to the smoothness and slightly better fit and finish.
Pros
Beautiful reel with excellent fit and finish.
Cons
Not really a con, but these reels (Makairas) are big for their weight class.
Great Upgrade from Older Okuma Titus Gold
January 13, 2021
I have been a user of Okuma reels for years. This reel is a great improvement over my Titus Gold 50Wlls. I understand that Tiberon was the partner in the design of the Makaria line. The overall fit and finish is excellent. The feel and heft of the new 50WII is also first class. Line capacity and drag is comparable or better than other major entries in the 50w class. The reel weighs less than its competition and carries a five year warranty. Timely shopping can bring this feature-packed reel into the price range of many off-shore anglers. Tackle Direct had the reel in stock and shipped it promptly. I will update this review when I can put this reel to use of the NC coast.
By Chuck
160 miles SE Port Aransas
Makaira 30 II
November 20, 2020
I've fished yellowfin tuna for several years with this reel as my go to for free spooling black fin tuna bait with a 3"x3" chunk on a weightless on a 9/0 circle hook. This year I reeled in a 91 pound and 86 pound yellowfin within minutes on it. I watched others take 30 plus minutes to reel in the same size fish with a bigger reel and get their butt kicked when the fish gets close to the boat. This reel with a 6 foot okuma Makaira heavy rod can't be beat in my opinion for this type of fishing. I even used it for trolling 2 years ago and caught a 135 pound beast. It took 45 minutes to land but when clicked into low gear near the boat, I it brought the beast into the gaff.
Mak15ii built like a tank
July 17, 2018
I only go charter boat in San Diego, got the Mak15ii and it is overkill for yellows, I am hoping to catch something bigger soon.. Otherwise I just winch them yellows to the boat easily, the smooth drag and dual speed make it very capable avoiding sharks and seals. Looking to get the Mak16/Mak20 when I do more than 1.5 days
Pros
Like they said, built like a tank and customer service is the best.
Cons
Little Heavy if you?re a wimp
By Josh
South Charleston, OH
BRUTE OF A REEL
June 1, 2018
I have been wanting one of these reels for years never had got around to getting one though. So I finally pulled the trigger and ordered one when I got the reel it was just what I expected got it 2 days earlier than what I was suppose to tackle direct does a great job with shipping I have to add. I spooled this reel with 100lb mono for a topshot and 1000 yards of 100lb power pro braid for backing....and the drag oh my goodness the drag so smooth and very very strong 85lbs of drag on a 50w is insane in my opinion cannot wait to get some sharks on the beach with this beauty of a reel.
Pros
85lbs of drag
Line compacity
Great looking reel
By Jonathan
Singapore, Singapore
Best Lever Drag 2 Speed Reel
May 4, 2018
I own Accurate DX2, BX2, Shimano Talica II and Okuma Makaira and I would rate the Makaira as the best. An absolute tank with such a smooth and consistent drag and enormous cranking power. This reel does not disappoint. Once you've used this, you wouldn't want to touch Accurate and Shimano again.
Pros
Great Design
Smooth and consistent drag
enormous cranking power.
Unexpected quality
December 22, 2017
This reel lived up to the raving reviews given by anglers on the west coast as a tuna slayer. Fit and finish is great. Line capacity is perfect for tuna under 200# (500yds 65# spider wire plus 25yds of 80# fluorocarbon). Had drag set at 22# full but never had to push it past strike to land several 75# class Louisiana yellow fin.
Pros
Super smooth drag.
Tbar offset handle.
Smooth shifting between low and high rear while under heavy drag.
4.7 to 1 high speed gear ratio.
Cons
A little heavy when compared to an Avet LX and HXJ.
Reel seat clamp does not screw into reel frame. I prefer that design.
The drag curve is very steep so it limits the range of drag settings.
Okuma Makaira
November 22, 2017
Okuma Makairas hold up to the test, some of the best reels on the market.
Great Reel
November 19, 2017
Great reel, 2 speed and the power to crank on big game like giant bluefin. Best 130 on the market
OKUMA MK-80WII MAKAIRA
November 28, 2016
I purchased 2 Barrett shark rods . I asked Peter Barrett for his reel recommendation . Peter stated he owned 2 Makaira 80wii on his personal rods so I bought one . This reel is extremely powerful and can land large fish . Very large fish . It gets the sharks in before they are to far gone to recover and released .
Pros
Will winch in 10 foot tigers ! It looks amazing
By Jason
Singapore, Singapore
fantastic bulletproof reel
May 15, 2016
this reel only downside is the hefty weight because its been overbuilt
The Mighty Monster.....
February 12, 2016
That's what I call this 10II, it is perfect for those tough fighting fish without the size and weight of the larger 30's...
Pros
Light Weight
Tough Build
2 Speeds
Great Handle
Ultra Smooth
Cons
Seat doesn't fit all rods.
In my opinion, the Okuma 30/50 is the best reel in this size class. The drag is ridiculous, and is super smooth. Having fished extensively with Avet, Penn and Tiagras, these reels take the cake. They are worth the few extra dollars.
By Brian
lake worth , florida
good reel
January 27, 2015
this has lasted me a while and it's a great reel !
Kynth
from South Cotabato, Philippines asked:
May 16, 2019
Is there a left hand version of these reels?
Can I use it for jigging?
Thanks for your answers.
1 Answer
The 8 or the 10 will work for jigging but they are all right hand 
Submitted by:
Bernie De Graaf
on May 17, 2019
Sam Hightower
from Wilmington, NC asked:
October 10, 2020
I didn't see the answer earlier. Is there a left-hand retrieve version?
1 Answer
Unfortunately no, they do not have a left hand retrieve version.
Submitted by:
Kelly Sica
on October 22, 2020
Donald
from orange beach, AL asked:
January 20, 2016
Are these reels compatible with super braids and if they are what poundage and how many yards for the 1511?
1 Answer
Yes, you can spool the MK-15II with braided line, the braid capacity is 65lb test at 300 yards.
Submitted by:
Kaitryn
on January 21, 2016
Matthew Glitz
from Fot Lauderdale, Florida asked:
May 4, 2012
Good afternoon I am looking for a spare part for a Okuma Makaira 5011. It is a gear I believe. It is round with numbering on it and little finger grips around its circumference. I hope that you can help me. I am no fisherman at all so I have attached photos to describe the spare part I need. Do you stock spare parts for this reel? Regards Matt Glitz
Show off your fishing gear investment. Please post images and videos of your fishing gear, apparel, catches and lifestyle shots on and off the water. Let's see what you've got for a chance to win FREE gear! You can use #HookedOnTD or UPLOAD YOUR IMAGE HERE to make it onto our product pages or gallery. See something you like? You can shop directly from the images we post when gear we sell is featured!