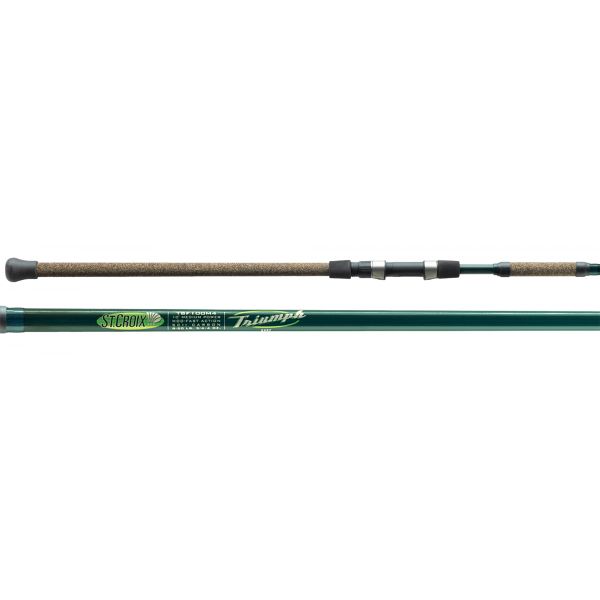 St. Croix Triumph Surf Travel Rods
Model


TD Code
Length
Power
Action
Pieces
Line Weight (lb)
Lure Weight (oz)
Rod Weight (oz)
Handle
Price
TSF90M4


SCR-2070

9'
Medium
Moderate-Fast
4
8-20
1/2-2-1/2
9.5
1

$220.00

USD
TSF100M4


SCR-2069

10'
Medium
Moderate-Fast
4
8-20
3/4-4
12.6
2

$250.00

USD
St. Croix Triumph Travel Surf Spinning Rods are made to accommodate anglers wherever they choose to fish. These sensitive rods are built for travel and performance at a great value.
Premium-quality SCII carbon
Outstanding strength, sensitivity and hook-setting power.
Sea Guide XDPS reel seat with eco-friendly sandblasted hoods
Sea Guide Atlas Performance SS304 guides
Premium-grade cork handle.
Two coats of Flex Coat slow-cure finish.
5-year warranty backed by St. Croix Superstar Service.
Designed in Park Falls and handcrafted in Fresnillo, Mexico.
5
Stars based on
25
reviews
Awesome travel rod
March 24, 2020
I have this rod in the 10ft version and its the perfect travel rod. I travel to Costa Rica twice a year to Crocodile bay resort and bring this rod along with an inshore travel rod from St. Criox. First there are no issues with this rod and carry on travel, the case is very sturdy and secure. I have never had a problem with TSA carrying this rod onto the plane. This rod is very fishable and very strong. Although it is a four piece rod it is surprisingly strong. I've used this rod for surf fishing for stripers in NJ and roosterfish in Costa Rica. I also like this rod when on the boat as it can cast plugs and metals a mile. In Costa Rica when we get on schools of smaller tuna this rod is perfect for launching small metals into the school and has plenty of backbone for the fight. I have also been fortunate enough to land a 70lb roosterfish from a pier with this rod. All around on of my favorite rods.
Pros
Very portable strong rod with good backbone great castability and weight perfect for a 5000-6000 reel (Mines paired with a Spinfisher V 5500) Very durable- I've had this rod for 3+ years
Best rod of all time
March 25, 2020
Absolutely love this rod. Perfect for inshore fishing and even for the bigger inshore fish down south. Great for tarpon, red fish, stripers, roosters , exc.
By Mathew
Wappingers Falls, NY
Great rod for carry on travel
January 13, 2020
Bought this for a trip to North Carolina this winter. Great rod with nice travel case. There was even enough room to also fit my 7' travel rod in the case as well, making it very convenient to travel with my rods.
St croix never lets down
November 18, 2019
Even though 3 pieces it's still sensitive enough to detect bites, does great at chunking with light lead or light plugging 1-2oz range
Rod Is St. Croix Quality - Excellent. Travel Tube Is a Bit Clunky
August 24, 2019
The rod fits together beautifully. Form a seamless unit. Once I fish it, I can comment on the feel, but so far I'm very happy with it. It's light weight, and flexes nicely. I'm sure it will not disappoint.

A drawback is the weight of the tube--It's, well, a brick.

Also, the tube is about 2-3 inches taller than the tallest rod segment. I wouldn't care except that it's already a close call as to whether it will fit in my largest suitcase. Since Mexico doesn't allow rods as carry-on, I might have to check it as a separate piece of luggage, which will cost at least $50 round trip. But let's see if it fits in my suitcase.

All that said, I'm pretty sure I will love the rod in the long run. Bottom line is that in high-end travel surf rods I don't find any better options out there. Will just have to sort out the travel details.
Terrific 9' Rod, Outstanding Service!
June 5, 2019
I bought the St Croix 9' Triumph Surf Travel rod. The rod is terrific. Great length, weight, balance and performance from the beach. Only minor problem was that the case arrived with a broken zipper. I made one phone call to Tackle Direct and St Croix sent a new case directly to me. That is outstanding customer service from both Tackle Direct and St Croix!
travel rod
March 27, 2019
the action of this rod is not what it says it is. the rod feels cheap
Really looking forward to using it.
March 18, 2019
Anticipated trip delayed, but product looks and feels great. TackleDirect delivered right on time and in perfect condition.
Can't wait to put this travel rod to good use!!
Lightweight, Well constructed rod!!
Great rods
January 25, 2019
Just back from Zihuatanejo inshore fishing. Used 10 foot travel surf. Traveled in overhead compartments no problem either direction. Casts great 2-3 ounce metal and GT Icream lures. Great for Jacks, tuna and dorado.
Captain mate wants me to bring one for them next time I come. Best rod he had cast. Works great from the beach. All in all 5 stars. You can cover a lot or water with the rod. Matched with shimano Saragossa 6000.
By Matthew
Grand Haven, MI
Great value
January 23, 2019
Excellent casting rod with St.Croix durability at a great price. I travel to baja on a regular basis fly fishing but always wanted a surf rod to bring along with. Price point for the quality is exceptional. Highly recommended.
Pros
price casting durability travel ready
Cons
wish it came in a rod sock like fly rods and other spinning rods.
Excellent rod Im impressed!
August 18, 2018
Took this rod to Puerto Vallarta for surf fishing - ended up going on a boat chasing schools of Toros (jacks) - Used it to cast plugs and krocodile spoons as well as SP minnows- hooked a 30 pound Toro broproblem in no problem.-
Pros
Versatility use it for light 1 oz Kastmasters and 2 oz plugs
Cons
Could not carry on with Volaris airlines-A little pricey-
By Rudy
Florida Panhandle
Excellent travel surf rod
March 23, 2018
Very well made. Excellent case. Compact. True to the weight range of baits it is rated for, with a sweet spot at about 2 ounces. This is exactly what I was hoping for.
Great Gear
October 26, 2017
I took one of St. Croix's 6'6" - 4 piece travel rods to Belize last year. Landed dozens and dozens of fish - of 11 speices - just casting lures from shore - including tarpon and snook. I was very very satisfied with the product. No other rod company makes anything comparable - let alone at this great price. NO EXCUSES for anyone not to have your gear with you anywhere in the world. Just purchased the 9 foot version to fish the heavy surf on the Pacific side of Central America this winter.
Nice 9' bucktail rod
July 31, 2017
It also does a good job with tossing smaller poppers and stick baits in the surf as well. I use it for both stripers in Monterey Bay, and chasing rooster fish in Baja.
18

Questions
&
20

Answers
Ole
from Eugene, OR asked:
September 15, 2019
Would the shimano ultegra ci4 plus spinning reel pair nicely with this rod? I plan to use it for rooster fish in Mexico, smaller GT's in Christmas Island, and jacks all over.
Thanks.
1 Answer
Yes it would, as long as you stay within the lure weight ratings this rod will be able to handle smaller fish from land. I would recommend a 10ft for more distance. 
Submitted by:
Alyssa Madosky
on October 5, 2019
cassius ka
from San Francisco, CA asked:
May 14, 2019
Which rod is better used for casting SP minnow?
1 Answer
The 10 ft is going to get you out a little farther then the 9 foot but will be a little heavier in weight.
Submitted by:
Bernie De Graaf
on May 16, 2019
Charbel
from DUBAI asked:
November 6, 2020
Will it come with a bag like the old model ? i have a shimano baitrunner 4000D. is it a good match ?
1 Answer
We have not seen these rods in person yet but they should come with a case or bag like the old models did!
As for the reel a 4000 size may do the job but typically a 5000 or 6000 size would be a better fit for a surf rod
Submitted by:
Alex T
on November 6, 2020
Matt P.
from Albany, NY asked:
February 26, 2020
Would this rod be able to handle the occasional tarpon and smaller sharks from the beach in the Space Coast area of Florida. Will pair with a Shimano Spheros 5000 and 30 to 40# braid.
Thanks.
1 Answer
The heavier 10' should do fine for occasional use. 
Submitted by:
Brian
on March 9, 2020
Raymond Kufaas
from Surrey, BC Canada asked:
February 20, 2020
Would a Tsunami SaltX reel pair with the St. Croix TSRS100M4 well? If so, which Tsunami SaltX reel model would be recommended for this travel rod?
1 Answer
The 6000 will pair nicely.  
Submitted by:
Rebecca Redington
on February 24, 2020
Raymond Kufaas
from Surrey, BC Canada asked:
February 16, 2020
Would a Daiwa Eliminator ELT6500 work with the 10' St. Croix travel rod?
1 Answer
Good pair, that will be a good set up. 
Submitted by:
Rebecca Redington
on February 17, 2020
Jeremy
from Telluride, Colorado asked:
December 21, 2019
Would a Penn Fierce 2 6000LL fit and balance well with this rod? Need the set up to handle anything I can pull of in the surf in Australia.
1 Answer
If you are considering the Truimph Surf rods your best match would be the 10'6 Medium Heavy. That would pair well with the Penn Fierce 2 6000LL and can handle a wide range of species. 
Submitted by:
Rebecca Redington
on December 23, 2019
Mike
from North Carolina asked:
April 8, 2019
Thinking of pairing 10 foot with a Daiwa BG. Can you recommend BG reel size for this rod? Thanks.
1 Answer
Either the 4500 or the 5000 should work, depending on what line you are looking to put on it and your target species. There is a pretty significant size increase when you go to the 5000
Submitted by:
Ryan
on April 10, 2019
Sam
from Canada asked:
September 18, 2018
I have a Penn Clash 5000, which one will be more balanced to cast poppers and stickbait ?
1 Answer
I'd recommend the 9'
Submitted by:
Chris
on September 21, 2018
Sam
from toronto, canada asked:
March 13, 2018
I have a Penn Clash 3000 series, would it fit the 9" or 10" rod?
1 Answer
The 9' St Croix Travel rod would be the best fit for the Penn Clash 3000.
Submitted by:
Donald
on March 16, 2018
John
from Fl asked:
January 20, 2018
Would a Saragossa 8000 fit in the 9ft rod?
1 Answer
Yes, the Saragosa 8000 will fit on the rod. However, a 5000 or 6000 size would likely be a more appropriate size to pair with the 9 foot Triumph Travel Surf Rod.
Submitted by:
Devon
on January 22, 2018
Michel
from Melbourne Australia asked:
October 15, 2015
Is the Sustain 10000 reel suitable for the St Croix surf Travel rods, or would you recommend other rods Thank you very michel
1 Answer
That reel would be a bit big for that rod, depending on what you are fishing for. The 5000 or 6000 size sustain would be the perfect match for that rod.
Submitted by:
David
on October 15, 2015
Peter
from Long Beach, CA asked:
April 21, 2015
This summer I plan on making a trip up and down the California coast and need of a surf rod. I also want something to use even after my trip to use as a primary surf rod also. So my decision comes down to either the 4pc or the 2pc. Which would you recommend? Does the 4pc feel just like the 2pc? Is the 4pc more fragile compared to a 2pc? Durability between the two?
1 Answer
Peter, Both are great rods. I personally fish with the 2 piece Triumph surf 9ft. I can say with great confidence that the Triumph travel surf was designed for limited space travel, such as for an airplane over head storage, or trekking long distances with limited space. If your travel plans will accommodate the two piece version of the rod I highly recommend you go with it. The rod breaks down to 5 ft total length. The two piece will feel more solid when casting, and a much better rod for you when you return home to your local surf fishing spots.
Submitted by:
Frank
on April 23, 2015
Mark Green
from Arizona asked:
September 23, 2014
Hi, I am interested in this rod to take to Fiji with me to fish from the beach with poppers and stick-baits and maybe some plastics and jigging from kayaks. Would you recommend the 9' or 10' and what size reel would you recommend? I was considering 25-30lb braid with a flouro carbon leader. Thanks, Mark Green
1 Answer
Either the 9' or 10' would work for the beach. It really depends on what you are most comfortable with. They would both be too long to use from a kayak. As for reels, we suggest 5000 to 6000 size.
Submitted by:
Customer Service
on September 23, 2014
jim
from newcastle,England asked:
September 9, 2013
Hi would this rod be able to handle 40 pound jacks, i will be using 25 lb braid and fishing off rocks
1 Answer
Yes, this rod would be able to handle 40lbers, no problem. With good angling skills around the rocks this rod could do it just fine.
Submitted by:
Customer Service
on September 10, 2013
Russ Burwell
from Galveston Co., TX asked:
October 15, 2012
What is the maximum length of the disassembled rods, not the rod cases?
2 Answers
The tube that holds the 10' is 37". The tube that holds the 9' is 34".
Submitted by:
Customer Service
on October 16, 2012
The longest section of the 10' St. Croix Triumph® Surf Travel Spinning Rod is 34 3/4" and the longest section of the 9' rod is 29 1/2".
Submitted by:
Alon
on September 14, 2014
from Petach Tikvah, israel
Abdullatif
from Saudi asked:
September 3, 2012
hello, does the Penn International TRQ 100 reel fit the reel seat on this rod snugly? or is it a loose fit?
1 Answer
These rods are for spinning reels, the TRQ 100 would not work.
Submitted by:
Customer Service
on September 4, 2012
Dave
from Halifax, Nova Scotia asked:
June 9, 2012
How long are the tubes that the the 9 and 10 ft rods. I need to keep the outside measurement to 30inches to fit in my suitcases. cookedr@hotmail.com
2 Answers
The tubes come to 34inches long.
Submitted by:
Customer Service
on June 12, 2012
The 9ft case is 34" long and the 10' is 37" long. Thanks, Dave Fischer Retail Store Sales Associate St. Croix Rod Ph: 715-762-3226 ext. 119 www.stcroixrods.com
Submitted by:
Craig
on March 12, 2014
from MA
Show off your fishing gear investment. Please post images and videos of your fishing gear, apparel, catches and lifestyle shots on and off the water. Let's see what you've got for a chance to win FREE gear! You can use #HookedOnTD or UPLOAD YOUR IMAGE HERE to make it onto our product pages or gallery. See something you like? You can shop directly from the images we post when gear we sell is featured!