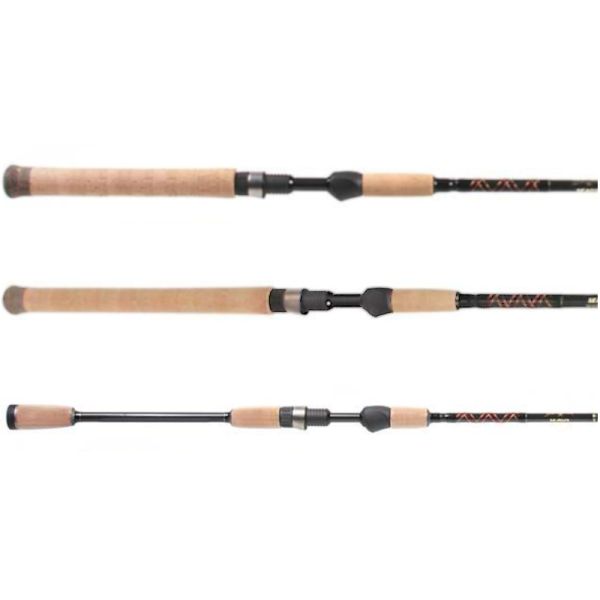 Star Seagis Inshore Spinning Rods
Model


TD Code
Length
Line
Weight (lb)
Lure
Weight (oz)
Action
Type
Guides
+ Tip
Handle
Price
SK410FT66


STA-0307

6'6"
4-10
1/8 - 3/8
Ultra-Light
Spinning
8
Full
Cork Grip

$149.95

USD
SK614FT66


STA-0308

6'6"
6-14
1/4 - 5/8
Med-Light
Spinning
8
Full
Cork Grip

$149.95

USD
SK817FT66


STA-0309

6'6"
8-17
1/4 - 3/4
Medium
Spinning
8
Full
Cork Grip

$149.95

USD
SK410FT70


STA-0310

7'0"
4-10
1/4 - 3/4
Ultra-Light
Spinning
9
Full
Cork Grip

$149.95

USD
SK614FT70


STA-0311

7'0"
6-14
1/4 - 5/8
Med-Light
Spinning
9
Full
Cork Grip

$149.95

USD
SK817FT70


STA-0312

7'"
8-17
1/4 - 3/4
Medium
Spinning
9
Full
Cork Grip

$149.95

USD
SK1020FT70


STA-0313

7'"
10-20
1/2 - 1-1/2
Med-Heavy
Spinning
9
Full
Cork Grip

$149.95

USD
SK614FT76


STA-0314

7'6"
6-14
1/4 - 5/8
Med-Light
Spinning
10
Full
Cork Grip

$159.95

USD
SK817FT76


STA-0315

7'6"
8-17
1/4 - 3/4
Medium
Spinning
10
Full
Cork Grip

$159.95

USD
SK1020FT76


STA-0316

7'6"
10-20
1/2 - 1 1/2
Med-Heavy
Spinning
10
Full
Cork Grip

$159.95

USD
SK817FT76G


STA-0301

7'6
8-17
1/4-3/4
Medium
Spinning
10
Split
Cork Grip

$159.95

USD
SK1020FT76G


STA-0302

7'6
10-20
1/2-1-1/2
Medium-Heavy
Spinning
10
Split
Cork Grip

$159.95

USD
The new Seagis inshore rod series from Star Rods incorporates the latest component technology to create an ultra-lightweight inshore rod with superior sensitivity. Only top quality Fuji components are used on the fast taper, high-modulus specially processed graphite blank. Fuji?s new SK2 split reel seat gives increased sensitivity while reducing weight. The new Fuji K-Series Tangle-Free guides with Alconite rings are lightweight and shed tangles that occur while using today?s popular braided lines. Top quality cork split grips further reduce weight. Weighing in at a mere 3.5oz ? 4.3oz., Star Rods has set the new standard as the premier inshore fishing rod.

Rods can benefit from the use of the New Guide Concept. By reducing guide size near the tip of the rod, weight is reduced in this critical area and more of the imparted energy can be used for casting rather than starting and stopping the rod. Rod response and recovery are noticeably improved and overall rod balance shifts that much closer to the handle.
5
Stars based on
21
reviews
By Steve
Monmouth County, NJ
I ordered this rod on April 4 from TD and I received it on April 11. The sweet of it is this rod is lightweight and has an unbelievably smooth cast. I have it paired up with a Penn 4500 Conqueror.
The bitter is that I hooked a large blue fish yesterday April 30 and the rod snapped. It sounded like a gunshot when it broke.
I was not a happy camper at the time but my buddy reminded me that Star has a lifetime guarantee. I will be calling TD today and putting it to the test. More to follow....
Merchant Response:
Yes we are replacing your rod.
Pros
Lightweight and smooth casting ability
Great rods!
February 2, 2021
If your Star Seagis rod snaps while fighting a fish, you either have the drag too tight or using a rod not rated for the pound test line you're using. I've fished with Star Seagis and Paraflex for several years and have never had a rod break while fighting a fish. And I think I have 9 Seagis and Paraflex rods all mounted with Penn reels. Just a great combination.
Pros
The very best rods in that price range and above that I've ever fished with. I think I own over 15 of them!
Cons
I'd like to be able to find more 7'6" rods especially in the lighter pound test ranges such as 6-14, 10-17, etc
By DJ A.
Merritt Island, Fl
Great rods!
October 9, 2020
I own 8 Star Seagis and 3 Star Paraflex rods. I have never had any issues with any of them! I know of no other rod in that price range that is any better. None!
Buy a Star rod, you won't be disappointed.
Pros
Great blanks and components with a wide variety of lengths and strengths to choose from. I do have several custom rods too and those are the only other rods I will buy. I'm a fishing guide and depend heavily on my fishing gear and I've tried several different rod brands but always come back to Star Rods. Clients can be rough on gear too but the Star Seagis and Paraflex have held up under the harshest conditions. Be it fish or clients!
Cons
I want more lol! You can't have too many rods and reels!
Strong and Light!
March 13, 2020
I bought 3 Seagis rods for fishing fresh and salt. They're very light and decently sensitive and have great pulling power. I paired these with Shimano CI4+ reels, and they feel amazing. Highly recommended!
Pros
Strong Light Sensitive
High modulus rods are not as strong and can break. Love the rod anyway.
June 28, 2019
I have the 7 foot version of this rod and I love it. Very sensitive and casts light weights a mile. But you must realize(generally speaking) that the high modulus rods are not as strong as the lower modulus rods. There is always a trade-off, there is no perfect rod.
When I fight a large fish I don't life the rod too high and all is well. If you fish from a pier don't try to horse the larger fish with the rod - use net.
By DJ
New Smyrna Beach, Florida
My favorite rods
March 8, 2019
Besides my custom built rods, I really like the seagis series. I have 5 of them. My only con is using them kayak fishing, the butt section is a little long. But in the boat, a great rod. Super light to cast all day...
Best bang for the buck
September 19, 2018
Lifetime warranty and one of the best rods out there. Affordable and as good if not better than the more popular rods like Lamiglas or St. Croix.
Made for braid
March 15, 2018
Upon switching my light inshore gear from mono to braid, I found that my rods that worked fine with mono did not work nearly as well with braid. The solution was these Star Seagis rods with guides designed specifically for braided line.
Pros
Perfect for braid. Casts beautifully. Great feel that inspires confidence.
Cons
Not the cheapest, but not the most expensive either.
By Christopher
Deltona, FL
Awesome rod!
February 8, 2018
I have owned this rod for a few months now and it has preformed flawlessly. It has amazing sensitivity when I'm trying to feel the small bite of a sheepshead but has the backbone to pull them away from structure. I have it paired with a 4000 BG and the combo is very light and very well balanced. Perfect for the price that it is listed as. Has micro guides and I use 30lb power pro and I've had 0 wind knots.
Pros
many mico guides, light weight, backbone without losing sensitivity, great rod
One of the best cork handle inshore rods I've ever used. Star builds great rods period . Pair this with a new Diawa ballistic 2500Lt and enjoy.
November 5, 2017
One of best cork handle inshore rods made. Star's best rod to me over the more expensive models.
Great rod for the money
September 29, 2017
The seagis is a great rod which I paired up with a shimano sustain 4000 and it handles anything from bass all the way to snook and small tarpon. Also the guides are very nice and the grip is has a very nice feel and is comfortable when fishing.
Pros
High quality for the money
Never Dissapointed with Star
August 15, 2017
Using and digging the Seagis for my inshore casting rod. The weight savings and balance of this rod let's my "old man" shoulder handle fishing abt 30% longer before the aches and pains of repeat casting set in. I based that "scientific" number off a few trips comparing seagis and my pro-green. I just timed each outing and determined how long I could go until I needed sea skittles/advil to keep throwing. That makes a big difference for me when deciding to chase the reds thru "one more creek."
Star handcrafted rods are and have always been my go to boat rods, now seagis (and maybe a VPR or 2) will provide the same trusty, reliable rod performance inshore.
Pros
Value Weight Performance Split grip and solid handle options
Best ever for the price!!!!
May 21, 2017
This is a complete package, very high end quality, blank,guides,caulk handle, wraps and finish.
By Duke
Monmouth County, NJ
Seagis = Awesome
February 25, 2017
I now have five seagis Star Rods. These are the lightest most powerful rods in their class. Used here in New Jersey backwater bass, fluke, bluefish. Try them. You won't be disappointed. PS Tackle Direct and the customer service is great to work with as well
Awesome Product
June 23, 2015
Until last year, I've never even heard of Star Rods. I've been a DIE HARD Shimano rod and reel guy for 25 years. Last year, I purchased a Seagis 7' Medium Heavy due to a recommendation and all I can say is "wow", am I impressed". I've tackled Reds, Tripletail and Mahi-Mahi with no issues whatsoever. Star Rods executes flawless craftsmanship in an amazing lightweight, inshore rod. What can I say, now I am hooked! I've purchased a new 7'6" Star Rod since them and am happier than ever.

Honestly, I would pay more money for this rod with no issues because I can plainly see it's a value. I will be working on expanding my Star Rod arsenal in varying sizes and weights.
Pros
- Lightweight - Flawless craftsmanship - Amazing Warranty - Eye Appealing - Hook Keeper - Beautiful Diamond Wrap - Amazing Reel Seat - Excellent Price
Cons
- Not enough of them in my garage
Devin
from Miami asked:
May 8, 2020
Will the starrods seagis 7'6 10-20 be a good combo with a stradic ci4 4000?
1 Answer
Hello Devin, 
Yes, this rod will pair well with your 4k Stradic. Tight lines! 
Submitted by:
B. Smith
on May 11, 2020
Don
from Northeast asked:
June 9, 2019
Saragosa 5000 and 7" medium perfect for albies and blues, etc.?
1 Answer
The rod will work for albies and blues. A Saragosa 5000 will be great for blues but you do not necessarily need a 5000 for the albies. Usually a 4000 is the best size. 
Submitted by:
Rebecca Redington
on June 18, 2019
Cee
from Ocean city, nj asked:
April 15, 2018
Is a shimano spheros 6000 too large for the medium heavy spinning rods?
1 Answer
Yes a 6000 size Spheros would be too large of a reel for those particular rods. A 4000 size Shimano Stradic would pair much better with the medium-heavy Star Agegis rods.
Submitted by:
Devon
on April 20, 2018
Nick
from Monmouth County, Nj asked:
March 6, 2018
For the 7'6" 1/4 to 3/4 do you think I would be able to get away with throwing a 1oz buck tail
1 Answer
You would be able to use a 1 oz. You would just see a bit more bend to the rod because it is recommended 3/4 oz max lure weight.
Submitted by:
Donald
on March 8, 2018
Will K
from Wall nj asked:
January 29, 2018
What size penn conflict 2 would fit better on the star rods seagis spinning SK1020FT76G Length7'6 Line Weight (lb)10-20 Lure Weight (oz)1/2-1-1/2 Action medium-Heavy the penn conflict 2 2500 or 3000?
1 Answer
The Penn Conflict 4000 would be the best option for for the SK1020FT76G.
Submitted by:
Donald
on January 30, 2018
Will Kinsella
from Wall Nj asked:
January 28, 2018
What size Quantum iron would pair better with the SK1020FT76G Length7'6 Line Weight (lb)10-20 Lure Weight (oz)1/2-1-1/2 ActionMedium-Heavy TypeSpinning Guides + Tip10 HandleFull Cork Grip, a Quantum Iron 20 or 30
1 Answer
The Star SK1020FT76 Seagis Inshore Spinning Rod would be the best option matching it with the Quantum Iron.
Submitted by:
Donald
on January 30, 2018
Will
from Wall nj asked:
January 25, 2018
Would a 2500-3000 size reel fit comfortably on the 7ft 6 medium heavy line rated 10-20 and lure rated 1/2 of an ounce to an ounce to ounce and a half.
1 Answer
A 2500-3000 size reel would fit comfortably on the Star Rods SK1020FT76G Seagis Spinning Rod.
Submitted by:
Donald
on January 26, 2018
giuseppe
from italy asked:
August 11, 2014
one o two pieces ?
1 Answer
These are 1 piece rods.
Submitted by:
Customer Service
on August 11, 2014
G. Heifara
from Tahiti French Polynesia asked:
September 29, 2012
I would like to know if the Shimano Stradic Ci4 2500 F spinning reel is good for this od
1 Answer
That would make a great inshore setup.
Submitted by:
Customer Service
on September 29, 2012
Show off your fishing gear investment. Please post images and videos of your fishing gear, apparel, catches and lifestyle shots on and off the water. Let's see what you've got for a chance to win FREE gear! You can use #HookedOnTD or UPLOAD YOUR IMAGE HERE to make it onto our product pages or gallery. See something you like? You can shop directly from the images we post when gear we sell is featured!